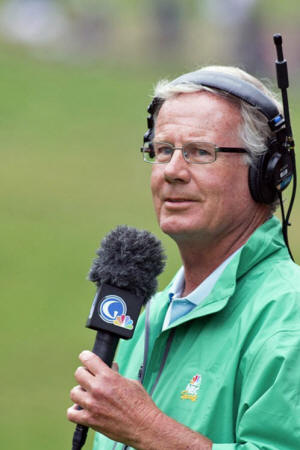 Longtime on-course reporter for NBC/Golf Channel Mark Rolfing returns to on-course reporting this week after a fight with cancer.
Rolfing, a Maui resident fittingly made his return at the Hyundai Tournament of Champions which is at the Kapalua Plantation course in Hawaii. He battled cancer for five months after heading to a Chicago hospital for treatment.
He had to take a leave of absence and could not report during the PGA Championship at Whistling Straits. He was out ever since until now.
"I cannot believe how good it is to hear my voice" Rolfing said according to GolfDigest.com. Rolfing did a TV series called "World Golf Adventures" and currently runs a website called "Mark Rolfing, Golf Hawaii".
His site can be found at MarkRolfing.com.
Be sure to follow me on Twitter @ChiGolfRadio
Source: GolfDigest.com 

Posted in Golf News and tagged Golf, Mark Rolfing, NBC/Golf Channel by Colin GP Mieczkowski with

no comments yet

.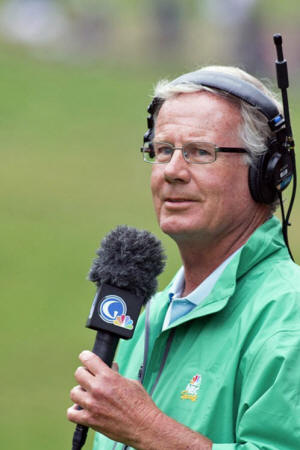 Looks like NBC golf reporter Mark Rolfing won't be picking up the mic until next season. According to the NBC Group, Mark has a rare form of salivary gland cancer.
He will begin a second treatment at the MD Anderson Cancer Center in Houston according to the statement. Here's a quote from Mark himself on the situation courtesy of the email from NBC:
"Debi and I would like to thank everyone for their incredible support and well-wishes, which have been incredibly valuable," said Rolfing. "My doctors and I are confident that by the end of the next phase of treatment, this cancer will be cured. I fully intend to rejoin my NBC/Golf Channel team at the Hyundai Tournament of Champions in Kapalua in January and can't wait! In the meantime, I will enjoy watching all the great golf coverage we have coming up from a fan's perspective…of which I'm a big one!"
Mark also had informed me during PGA Championship week, before the official statement that he was leaving Whistling Straits early to come to Chicago for treatment. This was before we learned about the calivary gland cancer.
I remember meeting Mark a couple of years ago and let me tell you that he is one of the nicest guys you'll ever meet. I met some cool people in my life and met some jerks but Mark is definitely one of the best.
Really a happy dude. He can't stop similing. Just someone who loves his life.
Let's hope there's a speedy recovery for this golf reporting legend. Definitely one of the under rated guys in the business!
Feel free to send tweets of some of your favorite Mark Rolfing interviews, moments, etc to me @ChiGolfRadio!


Posted in Golf News and tagged Golf, Mark Rolfing, NBC by Colin GP Mieczkowski with

no comments yet

.
NBC Sports' Mark Rolfing, who has been a big part of NBC's golf coverage during its U.S. Open days, accepted the ALS Ice Bucket Challenge. Tiger Woods did the honors of pouring the bucket on the golf journalism legend.
Ray Halbritter, CEO of Oneida Nation Enterprises also got splashed, but by Golf Channel broadcaster and former PGA Tour pro Notah Begay III. Check out the video below!
As I might of mentioned before, I met Mark Rolfing and will say he's a totally cool dude. Very friendly with a great sense of humor. I also think he does a great job reporting during NBC golf broadcasts and I've said that before meeting him so I'm not being biased *wink*.
Again, it's awesome that all of these guys are taking part in the ALS Challenge. From the Tom Watson challenge, to the entire U.S. Ryder Cup team challenge, to Tiger and Rory and now Tiger, Mark, Ray and Noatah. Just wonderful stuff!
So leave your thoughts on the video below and be sure to follow me on Twitter @ChiGolfRadio!

Posted in Golf Videos and tagged ALS Ice Bucket Challenge, Golf News, Golf Videos, Mark Rolfing, Notah Begay III, Ray Halbritter, Tiger Woods by Colin GP Mieczkowski with

no comments yet

.