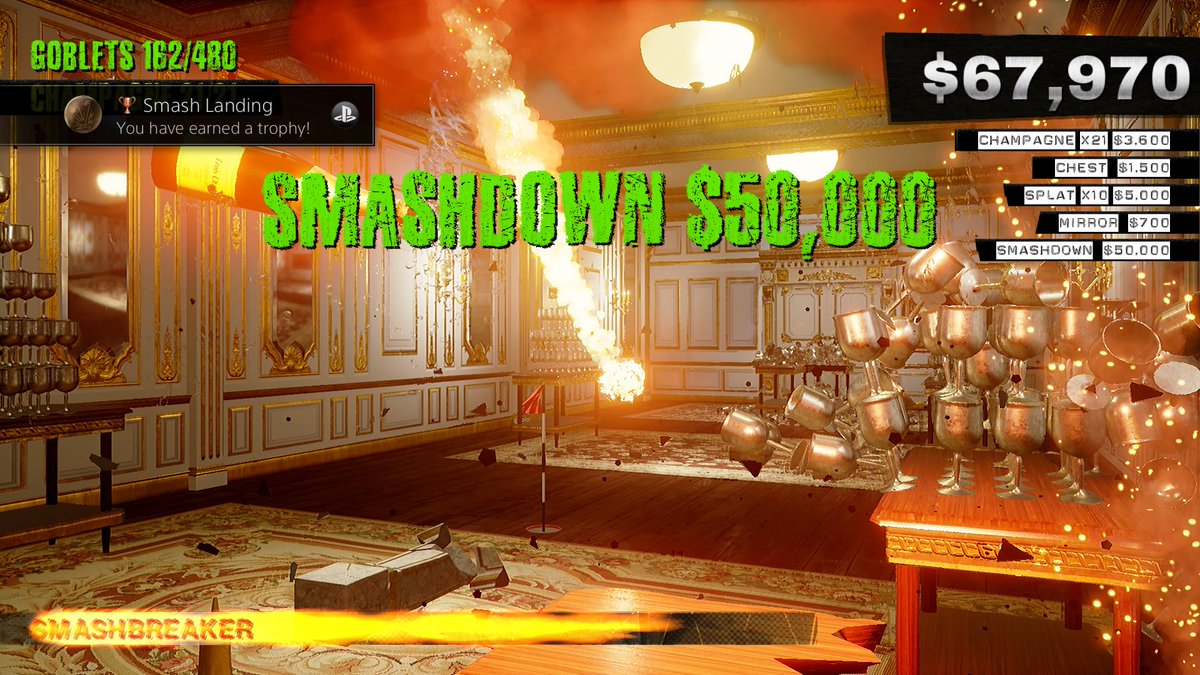 The sport of golf is many things. It can be played for relaxation, for excitement, and can be played many different ways, more so than any other sport.
But how about playing a version of the game where the goal is to destroy everything in sight? Well, that's what the folks at Three Fields Entertainment decided to create with Dangerous Golf, a video game made for the PlayStation 4 and Xbox One consoles.
I had the chance to jump in and play this explosive new golf game. The version I played was on my PS4.
Right off the bat, I will say that the game is very satisfying. What I mean is that, destroying almost everything in your path with a flaming golf ball is one of the best feelings in a game.
The goal is to break as many things as possible and raise the money in damage caused. Then, you drop your ball, and putt and if you can get it in the hole, then there's bonus cash, if you miss, money will be deducted.
Like in real golf, there is a lot of strategy involved. Such things include, deciding where to aim your shot and start your destruction and dropping the ball close to the hole.
Where you drop the ball is crucial. Because, if you drop, and the ball lands behind an immovable object, then you'll likely miss the putt barring a miraculous ricochet shot.
The gameplay overall is smooth and the loading times are fast. One big flaw for the game at launch was how long restarts took.
According to Three Fields and players, the restart load times were around 30 seconds. Now, it's two seconds, maybe even less than that as they are lightning fast.
Another thing that pops out at your is the stunning graphics. The game utilizes a powerful graphics engine and fits beautifully with the new generation consoles.
As you can tell in the screenshot above (photo is of my gameplay), the walls, floors, cups and flaming golf ball all look gorgeous.
The game has four game modes for the player to enjoy. These modes being Solo World Tour, Co-Op World Tour, Party Golf and Online Clubhouse.
The Solo World Tour is the game's career mode where you play over 100 unique holes in four different countries. You can tee off in a kitchen in the United States, a gas station in Australia, a mansion in France (pictured) and a castle in England among other locations within these countries.
Different holes even have unique weather conditions. For example, on a hole in the French mansion, it was storming outside and added to the atmosphere.
Another fun part of the World Tour are the putting challenges. The goal of these is to putt the ball into as money holes as possible within a time limit, each hole giving you a certain amount of money.
You can earn rewards on the World Tour including smash headlines, signature smashes and World Tour cups. The World Tour mode is very deep, as you can also earn new abilities such as pistol putt and the ability to glue your ball to wall (Oh! Bustin' Rhymes!).
Co-Op World Tour is the same thing as World Tour except you can team up with a friend throughout the experience.
Party Golf is a classic couch mode where you simply grab your closest friends and tee it up. This definitely makes it easier for some trash talk as sometimes, nothing brings more fire than gamers playing in the same room.
In Online Clubhouse, players can take on other dangerous golfers from around the world to compete for the highest score. Up to eight players can play against each other on three randomly picked holes and with over 100 unique holes, adds to the depth of the experience.
Overall, Dangerous Golf is a lot of fun, and has some very solid replay value. Whether you're a golf fan or not, you can appreciate the mass destruction that little golf ball can cause.
My only hope is that we see a new location or two with new holes to play. But, with the combination of good gameplay, beautiful graphics, a solid career mode and a fun online experience, Dangerous Golf is a winner in my book of sports gaming goodness.
My score: 8/10
Be sure to follow me on Twitter @ChiGolfRadio! I'm talking golf dangerously!

Posted in Golf Video Games, Reviews and tagged Dangerous Golf, Dangerous Golf Review, Golf Video Games by Colin GP Mieczkowski with

no comments yet

.