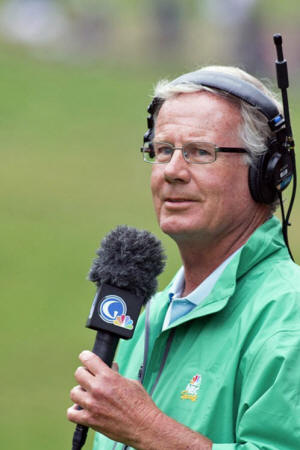 Looks like NBC golf reporter Mark Rolfing won't be picking up the mic until next season. According to the NBC Group, Mark has a rare form of salivary gland cancer.
He will begin a second treatment at the MD Anderson Cancer Center in Houston according to the statement. Here's a quote from Mark himself on the situation courtesy of the email from NBC:
"Debi and I would like to thank everyone for their incredible support and well-wishes, which have been incredibly valuable," said Rolfing. "My doctors and I are confident that by the end of the next phase of treatment, this cancer will be cured. I fully intend to rejoin my NBC/Golf Channel team at the Hyundai Tournament of Champions in Kapalua in January and can't wait! In the meantime, I will enjoy watching all the great golf coverage we have coming up from a fan's perspective…of which I'm a big one!"
Mark also had informed me during PGA Championship week, before the official statement that he was leaving Whistling Straits early to come to Chicago for treatment. This was before we learned about the calivary gland cancer.
I remember meeting Mark a couple of years ago and let me tell you that he is one of the nicest guys you'll ever meet. I met some cool people in my life and met some jerks but Mark is definitely one of the best.
Really a happy dude. He can't stop similing. Just someone who loves his life.
Let's hope there's a speedy recovery for this golf reporting legend. Definitely one of the under rated guys in the business!
Feel free to send tweets of some of your favorite Mark Rolfing interviews, moments, etc to me @ChiGolfRadio!

The following two tabs change content below.
Colin GP Mieczkowski
Colin Mieczkowski is the Editor-in-chief of the award winning GP Golf Report. He hails from Chicago,IL and is a big Chicago sports fan (Except the Cubs, sorry. Chi Sox baby). His writing journey began when he used to write in his notebook and write free verse poems. Later, he created a blog that covered Chicago sports, golf and video games (Weird combination) but decided to just focus on his main passion of golf. That's when the GP Golf Report was born and since its humble beginnings, the blog has reached well over 100,000 unique visitors and continues to grow. He also has built a love for golf course design and is a lover of "Street Golf" which is practically how he picked up the game. Colin is also a video game YouTuber as well. He goes by the name "GhostPanda" on there. You can click the YouTube symbol to check him out. Follow him on Twitter @ChiGolfRadio and add him as a friend on Facebook!
Latest posts by Colin GP Mieczkowski (see all)

Posted in Golf News and tagged Golf, Mark Rolfing, NBC by Colin GP Mieczkowski with

no comments yet

.